January 24-25, 2018 • InterContinental Miami • Miami, Florida
Morrissey Goodale M&A symposia agendas are packed with relevant in-depth information for A/E leadership teams interested in a sale or merger. The Southeast States M&A Symposium panel discussions and open forums focus on interests in Florida, Georgia, North and South Caroline, Alabama, Tennessee or Mississippi.
Check back here for additional agenda details and updates as we near the meeting date.
Welcome Reception on the Pool Deck
Overview of A/E Mergers and Acquisitions
What are the national trends and what are the drivers? What's happening in the Southeast? What is the outlook for industry consolidation nationally and in the Southeast?
Deal Pricing
Learn what the current market environment is for deals and deal pricing. What's a reasonable price to expect for your firm? What firms are selling for premiums? How are buyers pricing, structuring and paying for deals?
M&A Legal and Corporate Considerations
What are the terms of a typical employment agreement? What's a section 338(h) election and how will it affect me as a seller? What are the tax implications of an asset sale compared to a stock sale? Hear from deal structuring experts on what to be prepared for, how the rules are changing and how to protect yourself.
Guest Speaker
Dickerson Wright, Chairman & CEO, NV5
Dickerson will speak on how acquisitions can be a critical part in growing a high performing firm.
M&A Best Practices
Understand best practices in terms of preparing for a transaction – both as a buyer and a seller, negotiating through the deal, and successful integration post transaction.
Deal-Maker Panel
A moderated four person panel including representatives from two acquirers and two principals from Southeast firms who have recently sold. Hear directly from buyers on what they looking for, how they view and manage deal risks and how they integrate firms. Hear from sellers on what they learned through the firm sale process, what advice they have for potential sellers, what they would have done differently, and what life is like after the deal is done.
Open Discussion and Q&A
This open forum provides the opportunity to ask questions of all of the Symposium speakers and panelists.
Closing Cocktail Reception
Continue your deal-making and networking at the always-fun Morrissey Goodale post event cocktail reception.
EARLY BIRD PRICING
Through December 20 ………. $795
After December 20 ……………. $995
Your registration fee includes the welcome reception on January 24th, the full day of events and materials on January 25th, as well as breakfast, lunch, and a post-conference cocktail reception. Attendance is limited to 75 registrants.
"The material was so in-depth, so informative, that it made me think more in-depth about our situation and where we are headed."
John Kissinger
President & CEO, GRAEF
What People Say
The whole seminar was great, and the best part was the terrific panel of experienced buyers (and even a seller) who graciously shared their lessons and stories. Their willingness to give us the real truth was invaluable.

Gregg Ten Eyck

President, Leonard Rice Engineers, Inc., Denver, CO

The seminar delivered what it promised. Deep dive into the specific region, but also thorough overview of the entire M&A process. Excellent networking opportunities throughout the event were a bonus. Good investment for newbies and veterans alike.

Rod Sommer

CEO, LJB Inc.

This is the first time that I have attended a regional M&A seminar for our industry. The regional information presented was uniquely valuable-well done gents!

Glenn Fishler

President & CEO, BSI EHS Services and Solutions, San Jose, CA

Extremely informative event that helped to develop a comprehensive understanding of the M&A activity and process specifically for AE firms.

Christopher Chivetta

President, Hastings+Chivetta Architects

An especially unique event that features industry leaders who have a proven track record of success through M&A.

Talin Espinoza

SVP of Strategic Growth, Twining, Inc., Long Beach, CA

What a knowledgeable team of presenters.  Great content and very helpful in providing the framework to pursue M&A activities.

Laura Knight

Director, Finance & Accounting, CPP Incorporated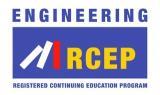 ENGINEERING REGISTERED CONTINUING EDUCATION PROGRAM
Earn 4.95 Professional Development Hours for Florida Licensed Engineers
Earn 6.25 Professional Development Hours for Non-Florida Residents
Morrissey Goodale has met the standards and requirements of the Registered Continuing Education Program. Credit earned on completion of this program will be reported to RCEP. Certificates of Completion will be issued to all participants. Complaints regarding registered providers may be sent to RCEP at www.RCEP.net.